A blouse made of camp socks: the exhibition "Women's memory of the GULAG" has opened
"Nobody will bring back the best twenty years in life"
Every thing here is someone's destiny. Lost, tormented, unhappy. Before us are beautiful things, and at the same time terrible. It can be a satin stitch scarf with a picture of a window with a lattice, behind which barbed wire can be seen. Or an elegant blouse knitted from loose camp socks. Or never once put on a white shirt, which was anxiously sewn at night after hard day's work for a new life that never came. All these things were created by repressed women, whose fates were forgotten and erased from history, and then restored bit by bit. The exhibition "Women's Memory of the Gulag" at the human rights organization International Memorial, announced by a foreign agent, is chilling – because of how much grief lies behind each very personal item, and because many years of work to restore this sad but important memory can be lost again.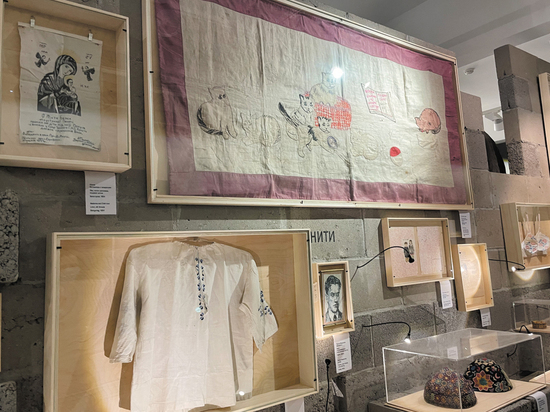 Photo: Maria Moskvicheva
For many years it was impossible to talk about this story, although everyone knew about it. Millions of people in Soviet times were affected by repression, it is difficult to find a family in whose history there is no sad page. "International Memorial" has been collecting these "pages" since the 1980s, when there was a breath of freedom and it became possible to at least somehow talk about mass repressions. The objects and documents that were included in the exposition of the exhibition "Women's Memory of the Gulag" were preserved and transferred here by former prisoners and their descendants. These are living, hand-made memories, not dry reports, orders and orders. Testimonies captured not only in the text, but also in the fabric, where every thread, every rag is an attempt to escape from the colorlessness of camp life, dirt, cruelty, violence and humiliation.
Of course, this project cannot cover the entire history of the female gulag, and is it possible? But those scraps of memories, those rare things that the prisoners managed to take out in their homemade plywood suitcases after their camp life, those rare photographs preserved in the Memorial collection already speak volumes. Actually, the exhibition begins with rare photographs – white plates are located on the white walls of the corridor according to the principle of an archive-card index, but only some of them have photographs. On the one hand, there is a photo of a woman before hard labor, on the other, after. And these are two different faces – the imprint of the camp years in wrinkles and a faded stern look.
The architecture of the main exhibition, invented by Nadezhda Korbut, Kirill Ass and Yekaterina Tinyakova, immerses you in the dull camp life. Scraps of prisoners' memories are scratched on the walls: "… they were embroidering on sackcloth, loosening old stockings and underpants for this …", "… the meeting hours fly by quickly, I give my sister a dressing gown into which my poems written on rags are sewn up", "… no one will return the best twenty years in life, no one will resurrect dead friends … ". And in the center of this space of memory of words is a wall, incoherently composed of gray concrete blocks. Here on the ledges rests a man-made memory – a prison quilted jacket with a camp number, a dress full of patches, a dented cap with earflaps, a sleeveless jacket with prayer texts-amulets ("living help") written from memory on an old sheet and sewn into the lining. These are the things that the prisoners wore on themselves. But there are other things – which were sewn for later, in the hope of being released and getting a chance for a new life, or those that were created for children.
Children appeared in camps for various reasons. Sometimes as a result of direct violence, sometimes a woman had a choice – to go to someone under the covers or to die of hunger, camp love also happened. A separate barrack was allocated for the kids, and then they were sent to boarding schools, if their relatives did not take them away. Many women became mothers before the Gulag and tried to maintain at least some kind of connection with their children through parcels. Here is a skullcap sewn by Hovhannes Tumanyan's daughter-in-law. The famous Armenian poet had four sons, one died in the Civil War, the other three were repressed and later shot during the Great Terror. One of them, Aleg, ended up in a camp with his wife Nina (both were repressed), and there they had a daughter, who was then taken away by relatives. From prison, she sent the girl a bright red skullcap embroidered with beads (God only knows how she managed to get it). Aleg was shot in 1938, and Nina served her time, despite her brain inflammation, and was released. In 1949, she underwent surgery to remove a tumor, after which she became blind and died shortly thereafter.
Here is a white embroidery with kittens made by Daria (Dora) Babina-Tsetlina's hands for her daughter Cecilia. She was also arrested, went through several camps, died in exile in Kudymkar in 1935, her husband, father Cecilia, was shot two years later. The mittens knitted by Olga Travkina, who died during an abortion, is the only memory that remains of this woman. Alla Berezkina, who then worked in the camp hospital, kept them. Here is a little book on the spine of which is written: "You will grow up, bunny, you will find out." The fairy-tale book was made by three friends – Sonechka, Lyudochka, Elochka (as they called each other) – for the son of Sophia Firtseva, a teacher at Moscow State University, who stood up for her oppressed colleagues and received 25 years in hard labor. These women carried their friendship through the years and, when they were released, kept in touch until the end.
Rarely when, having been released, the relationship of freed mothers with their children developed happily. The kids managed to turn into adolescents, and for them reunification meant leaving their usual social circle, school, moving somewhere far away. After serving her sentence, a woman could only count on working as a cleaner or a watchman … But while they were in captivity, this is the only thing that supported them. All things at the exhibition are different, but the destinies are similar. They are united by the camp horror that only a few have survived.
The news that the Prosecutor General's Office has filed a lawsuit with the Supreme Court to liquidate Memorial has stirred up the public, but those who work here every day and keep "an inconvenient history "Are stoic. They do not believe that it is possible to take and erase the destinies of thousands and millions of people. They feel supported. The writer Lyudmila Petrushevskaya wrote on her Facebook page that she renounces the title of laureate of the State Prize in protest against the liquidation of Memorial, and art critic Yuri Samodurov made a series of single pickets at the human rights organization. The petition against the liquidation of Memorial was signed by almost 20 thousand people in a few days.