Beaten jazzman Ruzakhunov spoke on video about "kidnapping" in Kazakhstan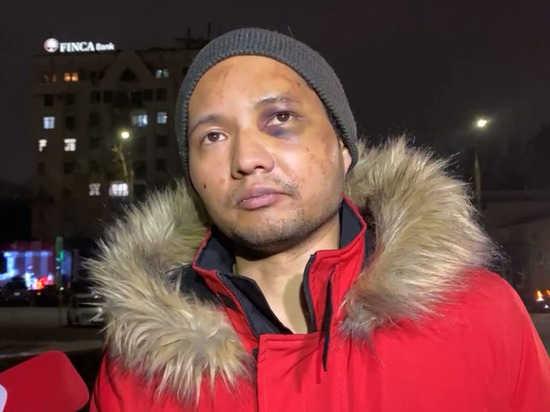 Photo: Still from video
The Ministry of Internal Affairs of Kyrgyzstan published a video with thanks from jazz musician Vikram Ruzakhunov, who was previously detained in Kazakhstan as a participant riots.
Recently, Kazakhstani TV showed a story in which a man with traces of beating on his face confesses to participating in the pogroms for $ 200. Also on camera, he said that some people paid for his flight, settled in an apartment with citizens of Uzbekistan and Tajikistan. The video spread on social networks, and users recognized the hero of the plot as a well-known Kyrgyz pianist, who often visits a neighboring country on tour. It was suggested that the Kyrgyz artist was kidnapped and forced to slander himself under torture to illustrate the version of foreign interference in the events in Kazakhstan. Soon after, the footage of the "interrogation of the pogromist" was removed from the sites of the Kazakh media.
After being released from custody and returning to his homeland, Ruzakhunov thanked the native authorities, in particular the Ministry of Foreign Affairs and the Ministry of Internal Affairs, for helping to return home. He did not disclose the details of what happened to him in Kazakhstan in this video.
"I am proud to be the son of the Kyrgyz people, – says Ruzakhunov. – Please accept my greatest thanks."
However, in another video , already filmed by media representatives upon the artist's arrival home, he conveyed some details. So, Ruzakhunov said that he flew to Alma-Ata at the invitation of a friend, and when the rallies began, the friend advised him to stay at home. However, on January 7, Ruzakhunov decided to try to return home. According to him, he called a taxi, but was detained at a military post. The musician indicated that he received his injuries during his arrest, he was not tortured in prison and was treated politely in the cell.
Ruzakhunov explained why he had incriminated himself: allegedly the inmates advised him to confess everything that the Kazakh security forces would say so that to be deported to their homeland as soon as possible. The musician, according to his confession, decided to follow this path and confess to participating in rallies for money.