Construction of the Moscow metro station "Fiztech"
In the north of Moscow, three tunnel boring complexes at once completed the boring of running tunnels on the new section of the Lyublinsko-Dmitrovskaya line of the Moscow metro. Moscow Mayor Sergei Sobyanin took part in the ceremony of completing three tunnels on the northern section of the Lyublinsko-Dmitrovskaya line.
Construction of a section between the Seligerskaya stations; and 'Phystech' started in 2019. The 6.9-kilometer section will run along the Dmitrovskoe highway. Now work has begun on the construction of all three stations & mdash; Yakhromskoy, Lianozova and Phystech. The total construction readiness of the site is 25 percent. The work is planned to be completed by the end of 2023.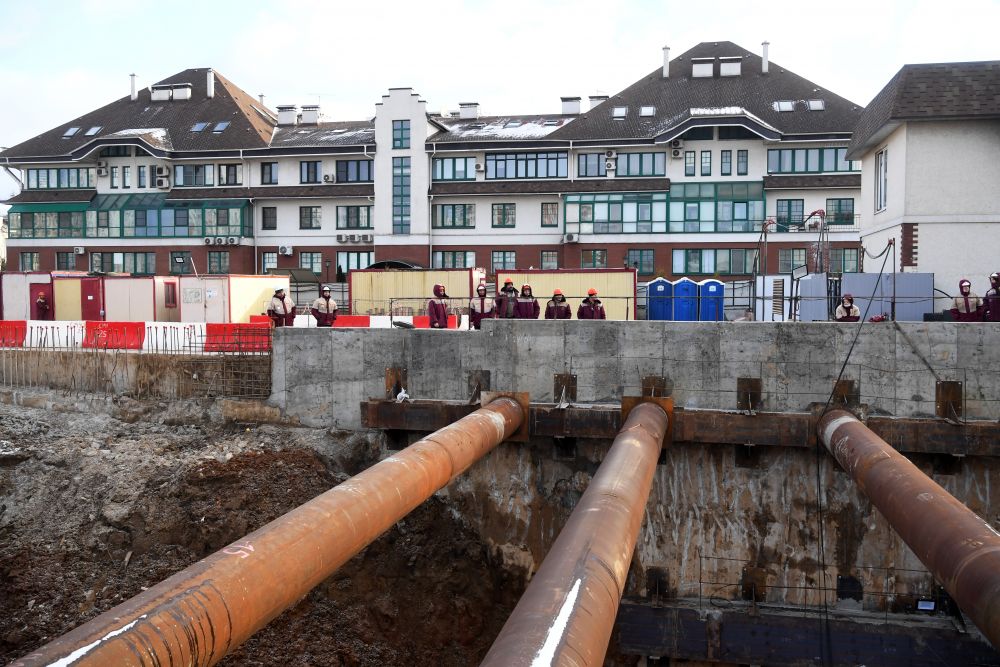 Construction of the station Lyublinsko-Dmitrovskaya line of the Moscow metro "Fiztech" © RIA Novosti/Ilya Pitalev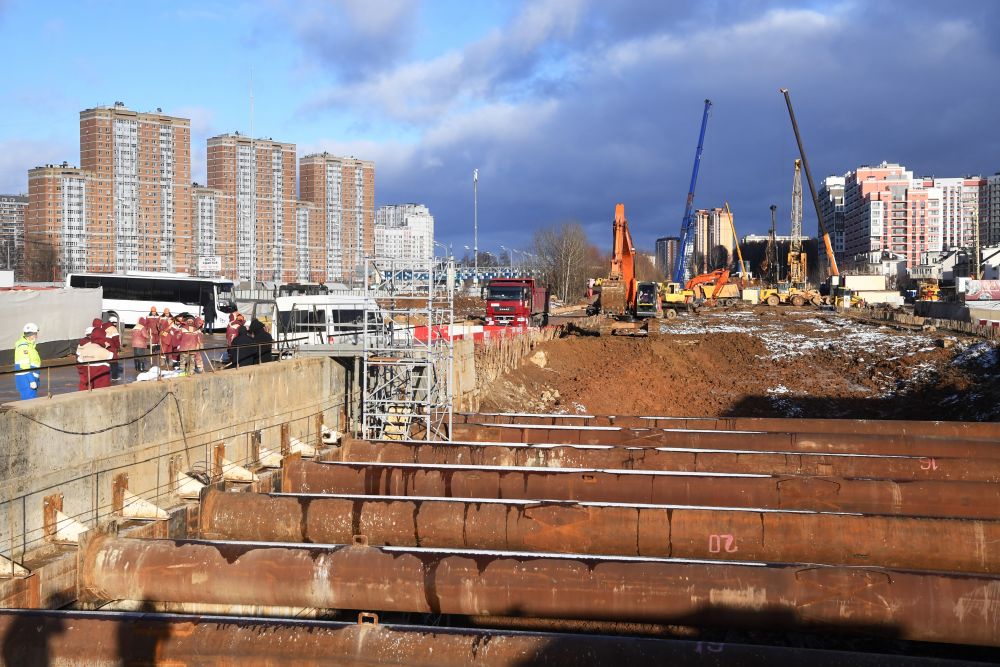 Construction of the Lyublinsko-Dmitrovskaya line of the Moscow metro "Fiztech" © RIA Novosti/Ilya Pitalev
Construction of the station Lyublinsko-Dmitrovskaya line of the Moscow metro "Fiztech" © RIA Novosti/Ilya Pitalev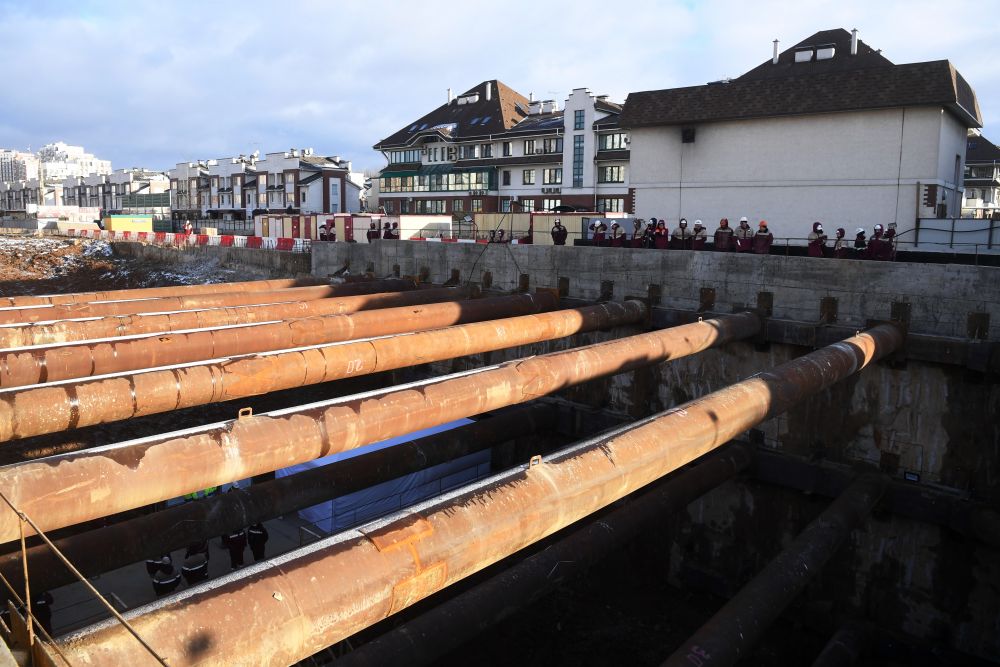 Construction of the Lyublinsko-Dmitrovskaya line of the Moscow metro "Fiztech" © RIA Novosti/Ilya Pitalev
Completion of the tunnel with the help of a mechanized tunnel boring complex (TPMK) at the construction of the Lyublinsko-Dmitrovskaya line of the Moscow metro "Fiztech" © RIA Novosti/Ilya Pitalev
Completion of the tunnel with the help of a tunnel-boring mechanized complex (TPMK) at the construction of the Lyublinsko-Dmitrovskaya line of the Moscow metro "Fiztech" © RIA Novosti/Ilya Pitalev
Completion of the tunnel with the help of a mechanized tunnel boring complex (TPMK) at the construction of the Lyublinsko-Dmitrovskaya line of the Moscow metro "Fiztech" © RIA Novosti/Ilya Pitalev
Moscow Mayor Sergei Sobyanin (right) during the ceremony of completing the sinking of three tunnels on the northern section of the Lyublinsko-Dmitrovskaya line © RIA Novosti/Ilya Pitalev
An employee of Mosmetrostroy JSC at the construction of the Lyublinsko-Dmitrovskaya line of the Moscow metro "Fiztech" during the ceremony of completion of the tunnel using a tunnel-boring mechanized complex (TPMK) © RIA Novosti/Ilya Pitalev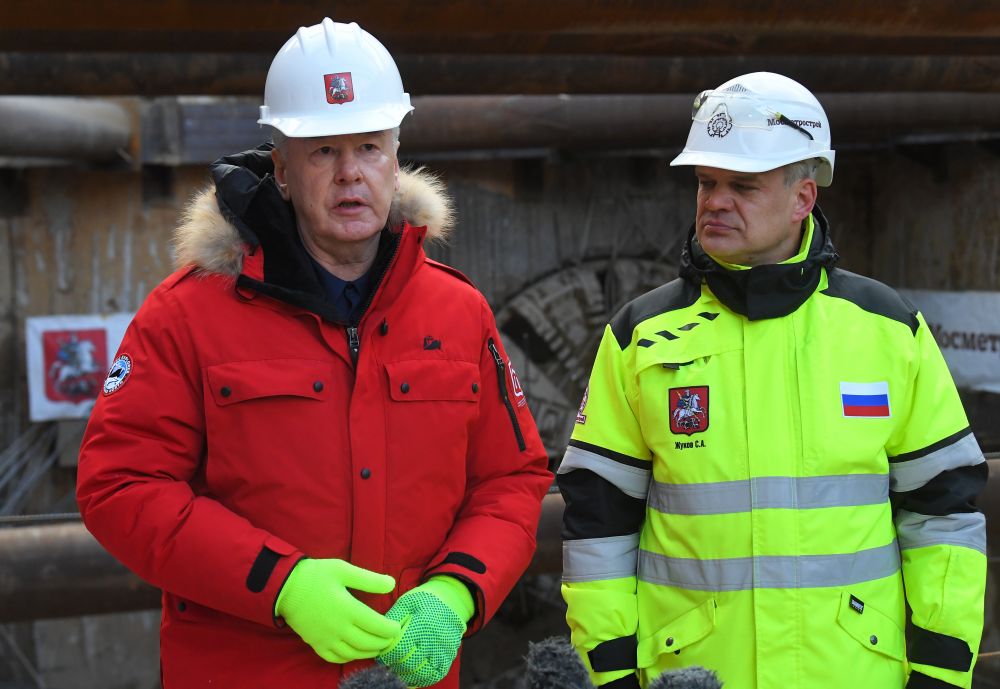 Moscow Mayor Sergei Sobyanin and General Director of OJSC "Mosmetrostroy" Sergei Zhukov (left to right) during the ceremony of completing the tunneling of three tunnels on the northern section of the Lyublinsko-Dmitrovskaya line © RIA Novosti/Ilya Pitalev
Employees of JSC "Mosmetrostroy" on the construction of the station Lyublinsko-Dmitrovskaya line of the Moscow metro "Fiztech" during the ceremony of completion of the tunnel using a tunnel-boring mechanized complex (TPMK) © RIA Novosti/Ilya Pitalev
Construction of the station Lyublinsko-Dmitrovskaya line of the Moscow metro "Fiztech" © RIA Novosti/Ilya Pitalev
Employees of JSC "Mosmetrostroy" on the construction of the station Lyublinsko-Dmitrovskaya line of the Moscow metro "Fiztech" during the ceremony of completion of the tunnel using a tunnel-boring mechanized complex (TPMK) © RIA Novosti/Ilya Pitalev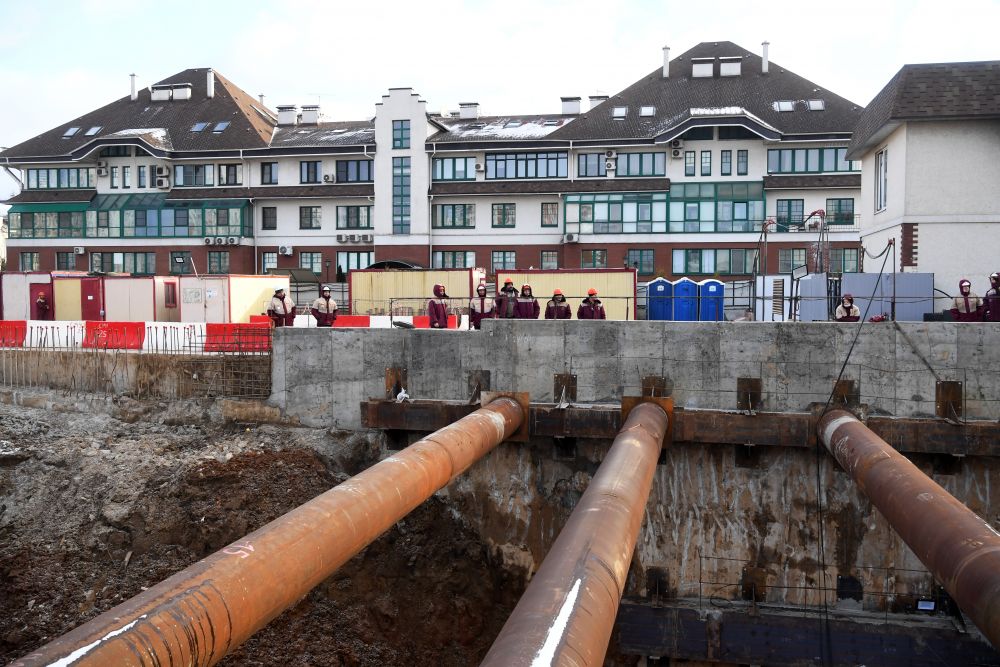 © RIA Novosti/Ilya Pitalev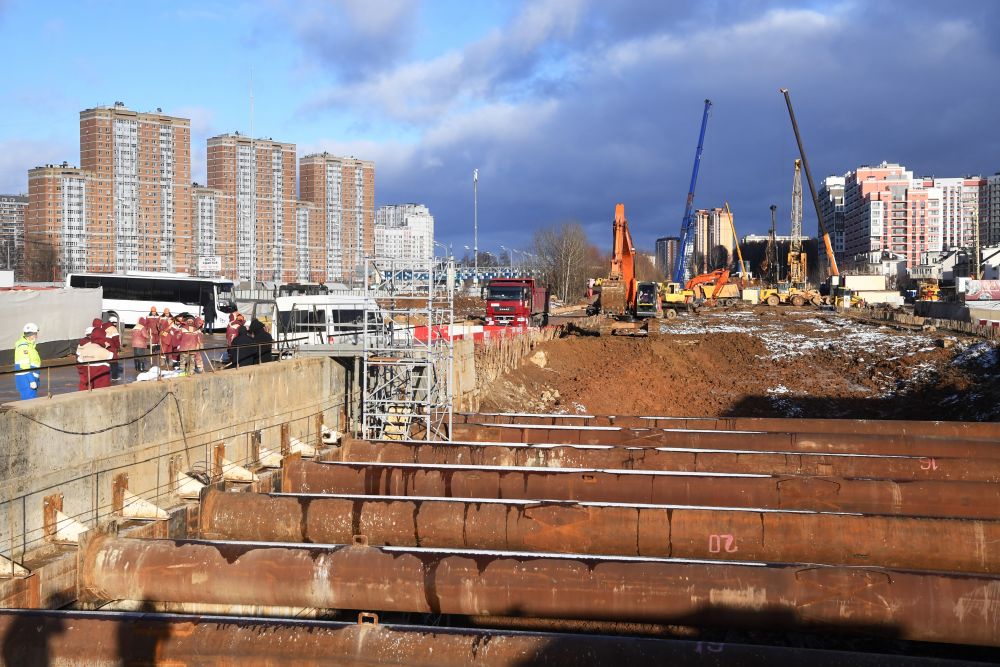 Construction of the Lyublinsko-Dmitrovskaya line of the Moscow metro "Fiztech" © RIA Novosti/Ilya Pitalev
© RIA Novosti/Ilya Pitalev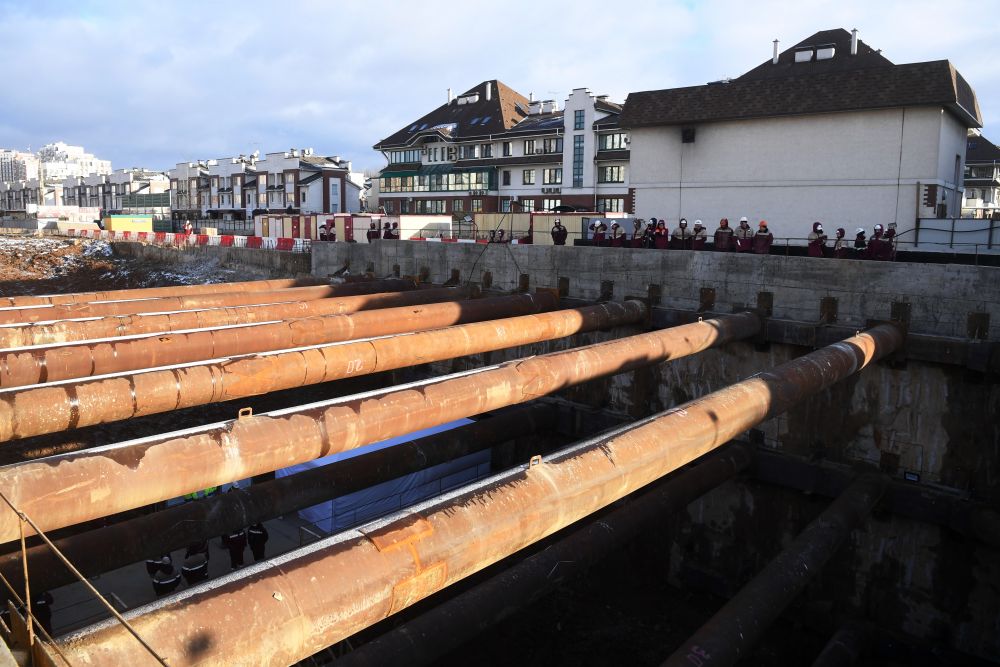 Construction of the Lyublinsko-Dmitrovskaya line of the Moscow metro "Fiztech" © RIA Novosti/Ilya Pitalev
Completion of the tunnel with the help of a mechanized tunnel boring complex (TPMK) at the construction of the Lyublinsko-Dmitrovskaya line of the Moscow metro "Fiztech" © RIA Novosti/Ilya Pitalev
Completion of the tunnel with the help of a mechanized tunnel boring complex (TPMK) at the construction of the Lyublinsko-Dmitrovskaya line of the Moscow metro "Fiztech" © RIA Novosti/Ilya Pitalev
Completion of the tunnel with the help of a mechanized tunnel boring complex (TPMK) at the construction of the Lyublinsko-Dmitrovskaya line of the Moscow metro "Fiztech" © RIA Novosti/Ilya Pitalev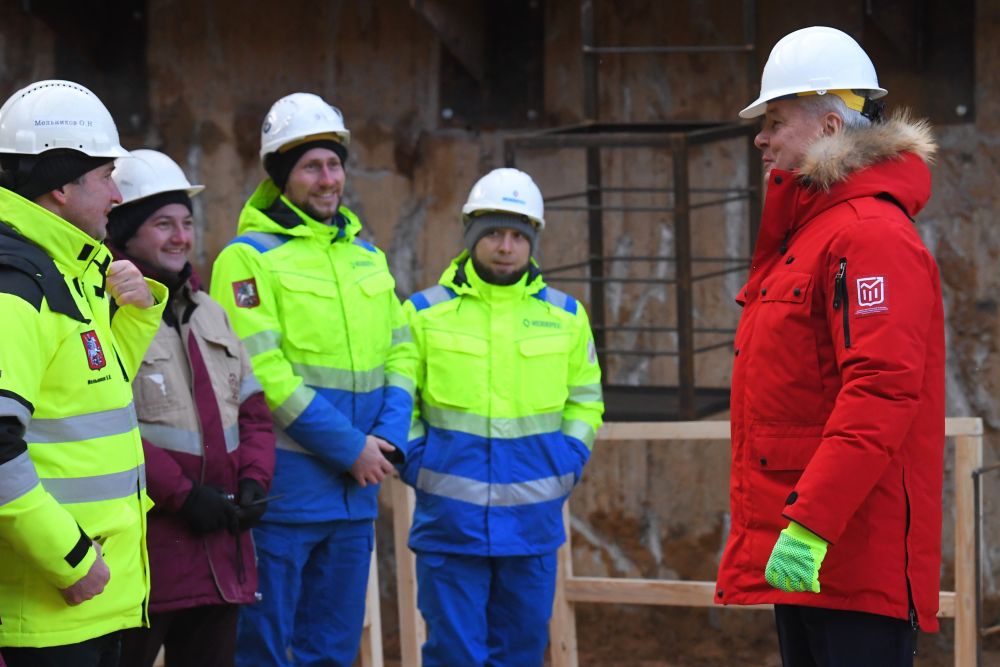 Moscow Mayor Sergei Sobyanin (right) during the ceremony of completing the sinking of three tunnels on the northern section of the Lyublinsko-Dmitrovskaya line © RIA Novosti/Ilya Pitalev
Employee of JSC "Mosmetrostroy" on the construction of the station Lyublinsko-Dmitrovskaya line of the Moscow metro "Fiztech" during the ceremony of completion of the tunnel using a mechanized tunnel boring complex (TPMK) © RIA Novosti/Ilya Pitalev
Moscow Mayor Sergei Sobyanin and General Director of JSC "Mosmetrostroy" Sergei Zhukov (left to right) during the ceremony of completing the tunneling of three tunnels on the northern section of the Lyublinsko-Dmitrovskaya line © RIA Novosti/Ilya Pitalev
Employees of JSC "Mosmetrostroy" at the construction of the station Lyublinsko-Dmitrovskaya line of the Moscow metro "Fiztech" during the ceremony of completion of the tunnel using a tunnel-boring mechanized complex (TPMK) © RIA Novosti/Ilya Pitalev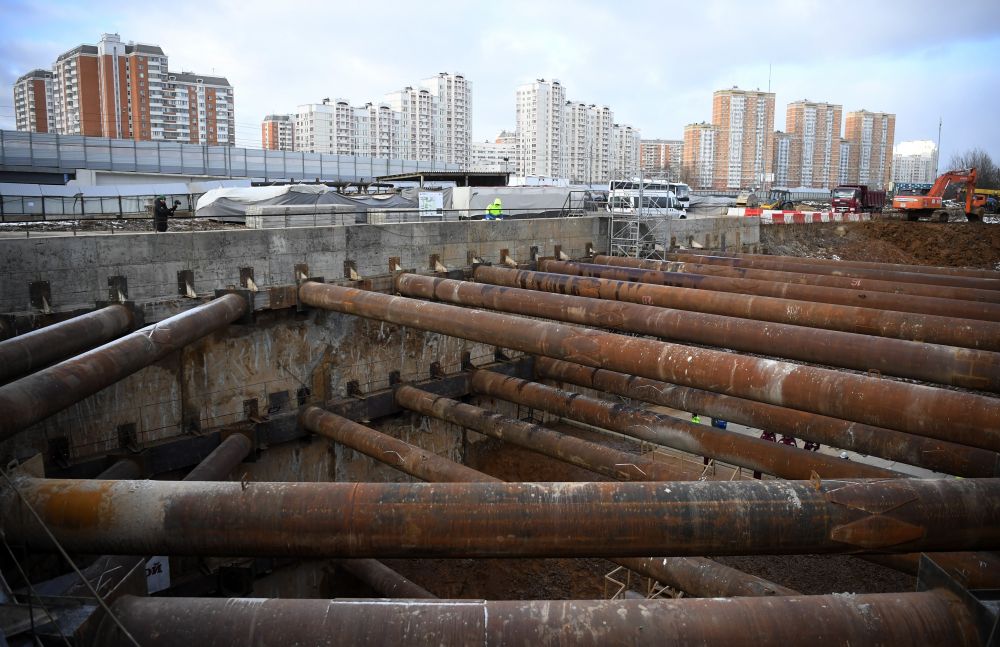 Construction of the station Lyublinsko-Dmitrovskaya line of the Moscow metro "Fiztech" © RIA Novosti/Ilya Pitalev
Employees of JSC "Mosmetrostroy" on the construction of the Lyublinsko-Dmitrovskaya line of the Moscow metro "Fiztech" during the ceremony of completion of the tunnel using a tunnel-boring mechanized complex (TPMK) © RIA Novosti/Ilya Pitalev