Disabled Wings. The wheelchair user could not leave the house and made a descent from the balcony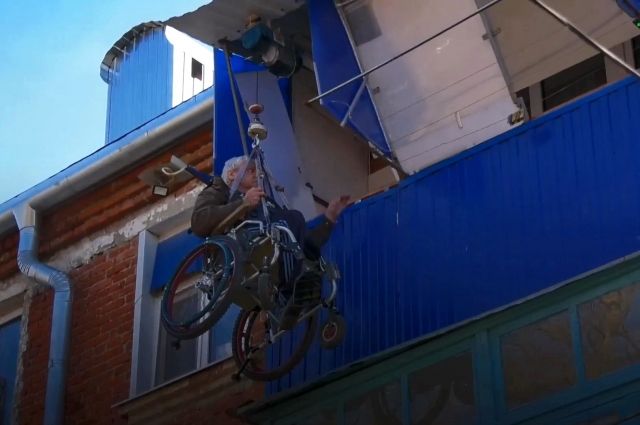 A man in a wheelchair stops at the base of an old high-rise building and suddenly begins to slowly " take off '' up. At the level of the third floor, he opens the small doors in the balcony and easily gets inside. Sounds surreal, but miracles like this filmed the other day in Timashevsk, Krasnodar Territory. The video spread across social networks and caused a flurry of emotions. Unwittingly, 60-year-old wheelchair invalid Alexander Yudin got into the shots. He constructed a lift for himself to be able to leave the apartment. How he succeeded and why there was no other way out, the man told the AiF.ru correspondent.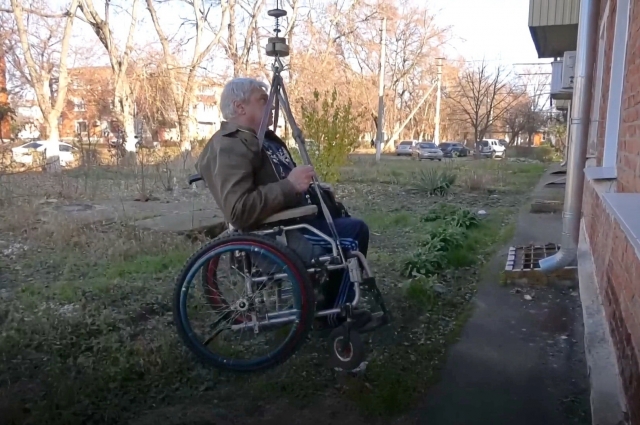 A gate to the sky. Photo: Still from video/Still from video
In 1996, Alexander Yudin had an accident due to which he lost his left leg. They tried to sew it on, but it did not take root. It was difficult to start a new life. Over time, he got used to walking on crutches. On them, the man slowly climbed the steps to the 3rd floor to his apartment, in which he has lived for many years, and went down. This continued until three years ago Alexander was overtaken by a new trouble. He fell and broke his thigh, which ended his crutch-walking. Even after a long treatment, jumping stairs on one leg became dangerous. I had to sit in a wheelchair, which actually tied the man to his apartment. It became possible to leave her in a wheelchair only with outside help, moreover, at the cost of great efforts. And then the man decided to make his own 'elevator'.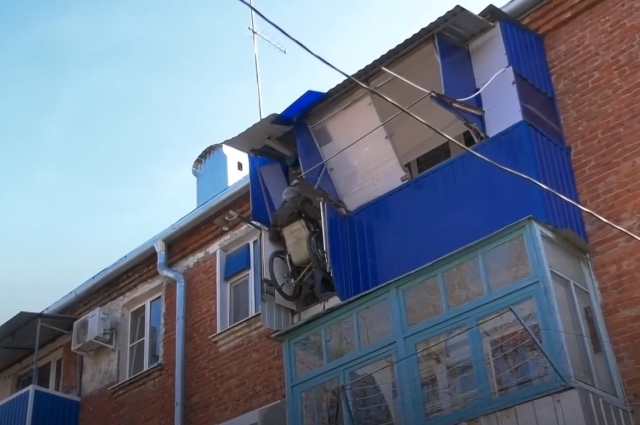 Photo: Still from video/Still from video
Even in his youth, Alexander Vasilievich became interested in technology. He studied in a radio circle, played motorball, and then chose a profession that was close in spirit. He worked most of his life as an electrician, but also successfully mastered the professions of a welder and crane operator. The experience gained in these areas turned out to be invaluable and even salutary for him. After losing his leg, the man himself converted his cars to partially manual control, which he changed from time to time. He officially registered all the alterations with the traffic police, and there were no problems. And when the bleak prospect of becoming a hostage in his own apartment loomed on the horizon, his ingenuity again suggested a way out. While the man lay with a cast on his leg, he began in his head to go over different options for solving the problem of mobility in the conditions of his old house.
Footage from the rise of Alexander Yudin that blew up the Internet.
" There were a lot of options that quickly disappeared, & mdash; says Alexander Yudin. & mdash; For example, I was thinking about a step walker, about a makeshift ramp, but using them would still require someone's help. This did not suit me, because I wanted to be able to leave the house and return myself at any time. I thought about working at the enterprise where I worked before the break, and they promised to take me back. We have a very good team. It was only necessary to find a solution with movement. ''
So he got the idea to make his own lift right outside the windows with an exit through the balcony. First, Alexander Yudin ordered all the necessary parts via the Internet, and after removing the plaster, he began to gradually put everything together. He did most of the work with his own hands in the garage, but at some stages he was helped by his son Andrey, who is also friends with technology. Together they provided for everything, including the possibility of a power outage. In order not to depend on the light and accidentally hang in the air, the man hung solar panels outside the windows. After two and a half months of labor, the elevator was ready, although subsequently the Kuban resident refined and improved it more than once. As a result, he even stopped counting how much money he spent on everything. The amount of tens of thousands of rubles was dumped, part of which was given to the poor disabled person by his family. But the result did not disappoint him.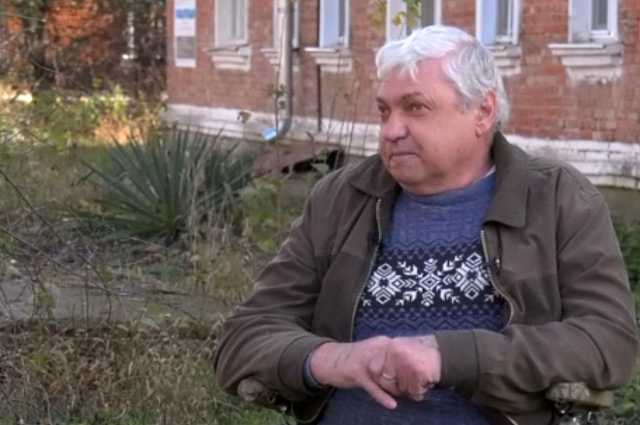 Alexander Yudin. Photo: Shot from video/Shot from video
Heart beating
At one time, Alexander Yudin had to work at high heights more than once, and he did not feel fear of her. The man both serviced the tower crane as an electrician and worked on it. Nevertheless, he remembered the first exit from the balcony very well because of the adrenaline rush.
" Although I understand the carrying capacity of mechanisms and made the entire structure with a large margin of safety, there was still fear, & mdash; recalls now with a laugh, Alexander Yudin. & mdash; When I opened the gate and looked down from the third floor, there was a tremor, my heart began to pound. I was even a little shaken. To be honest, I'm not a robot, so as not to be afraid of anything. When I left the balcony, it became even less comfortable. At first I thought to go back, but then I gained strength, pressed the button and drove down. After descending to the ground, I still got telepath for some time. Fear is fear & raquo ;.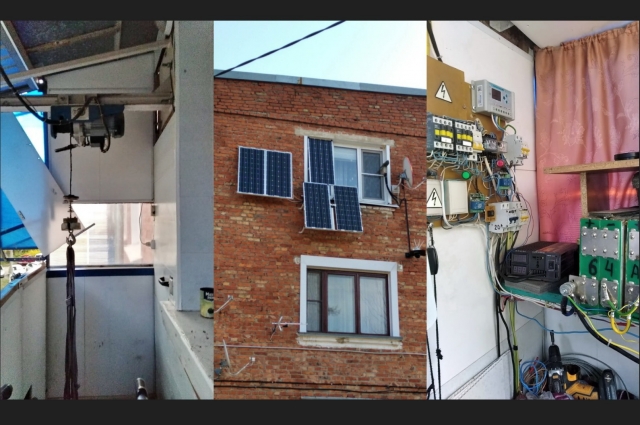 Components of an 'elevator' Alexandra Yudina. Photo: From personal archive/Alexander Yudin
At first, the man raised his head and carefully watched how the cable behaved, how the whole mechanism worked. The second time, too, it was uncomfortable, but not so much as the first. And over time, he just got used to " go out '' like that. to work and other matters. The neighbors, who were at first shocked by such a picture, then also began to perceive it calmly. Of course, many filmed the process on video and photographed, but did not post it on the Web for general review. Alexander Vasilyevich admits that he himself never dreamed of fame on the Internet. He says that he lived quietly and calmly for himself, until some blogger leaked an entry with his " trick '' to social networks. And then something unimaginable began. On the same day, journalists literally flooded to him. From one of their 'waves' the head of Timashevsk, Nikolai Panin, came along with the deputy prosecutor.
The news generated mixed reviews on social media. While some admired Alexander Yudin and his invention, others, out of habit, began to catch up on negativity. In particular, the usual reasoning began about bad bosses and the problems that a disabled person might face. But the head of Timashevsk hastened to calm everyone down.
" I will immediately respond to angry comments in various publics: there is nothing illegal in the building of Alexander Vasilyevich, therefore, there will be no checks, '' & mdash; wrote on Instagram Nikolay Panin.
& nbsp; & nbsp; & nbsp; & nbsp; View this post on Instagram & nbsp; & nbsp; & nbsp; & nbsp; & nbsp; & nbsp; & nbsp; & nbsp; & nbsp; & nbsp; & nbsp;
Post of the head of Timashevsk dedicated to Alexander Yudin.
In a conversation with officials, Kuban Kulibin did not scold anyone or complain, as could be expected in such a situation. He has a different approach to life. According to Alexander Yudin, he never asked officials to install a ramp in his entrance. Such a decision would not suit him. Unless a man asked to do something for a comfortable ride in a wheelchair to the nearest store. But there the issue was stalled because of the businessmen, and as a result, the disabled person himself made the check-in at the cost of little effort.
Help came
The uproar has launched processes that should make life easier for Alexander Yudin. Firstly, now social workers are actively helping a man to formalize his disability group, on which the amount of payments depends. On the day of our conversation, he just traveled to hospitals and underwent medical commissions.
" With my ailments, according to the law, I must have a second group of disabilities, '' explains Alexander Yudin. & mdash; And I had a third worker all the time. The doctors themselves even wondered why this was so. I was once promised to give a third group, and then they just closed the sick leave and said: & bdquo; Goodbye & ldquo;. I didn't complain about anything, because it's a hassle. And when I get nervous, I get asthma attacks, suffocate. And I also have hypertension. I decided that running around because of the group was not worth my health, because I could get worse. So I figured it's as it will be. "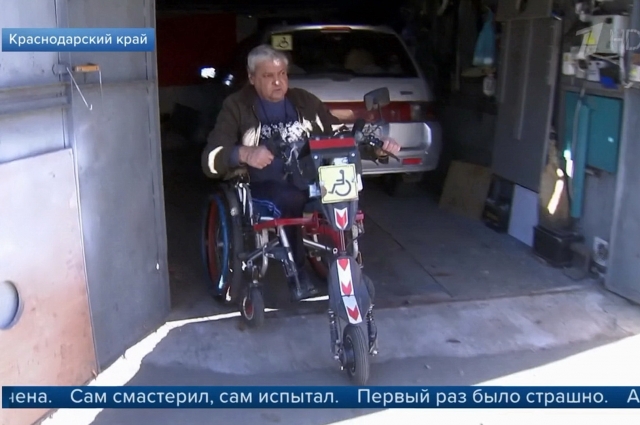 Alexander Yudin also made an electric scooter with his own hands, which is attached to the stroller. Photo: Still from video/Still from video
Also, Alexander Yudin should soon have a new wheelchair to replace the existing one, which he bought for a long time with his own money. The head of Timashevsk promised to help with an important new thing at a personal meeting, who also touched on this topic in his post. The man was told that the issue had already been resolved. Of course, other problems related to his living conditions are being discussed. The deputy prosecutor started talking about the possibility of changing the apartment of a disabled person to a private house so that he would not " fly '' back and forth. At first he did not object, but now he became thoughtful & mdash; and does not want to change housing.
"It seems to me that any move can be a disaster for me, & mdash; believes Alexander Yudin. & mdash; It will be a huge stress, I can not stand it both morally and healthily. Moreover, this apartment already has everything you need. Recently my son and I have carried out major repairs, have made heating. And in the new place, alterations, restructuring will be needed, it will already be difficult. In addition, here I have both relatives and friends who live nearby. They help me a lot and can help me out at any time. The whole village knows me here. And if I go somewhere, I won't see anyone. "
There are other nuances that make him now consider moving a bad idea. He liked the proposal for a possible replacement of his " elevator '' more. outside the window like a similar factory-made device. We are talking about a lift with guides and a platform for the arrival of the stroller. Although, in fact, the lifting mechanism itself there is the same as that assembled by Alexander Yudin. On the other hand, he says that his device works well as it is. You can only attract specialists to check it, make sure of its reliability and reflect it on paper. Now a man most of all wants to live in peace, work and not deal with new unnecessary problems.