September 14, 2022 @ 1:10 PM EDT
News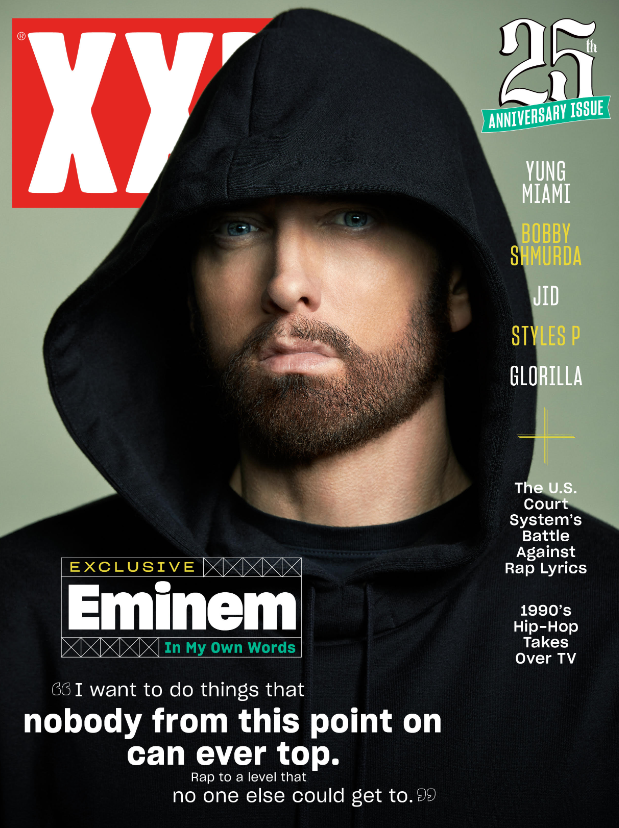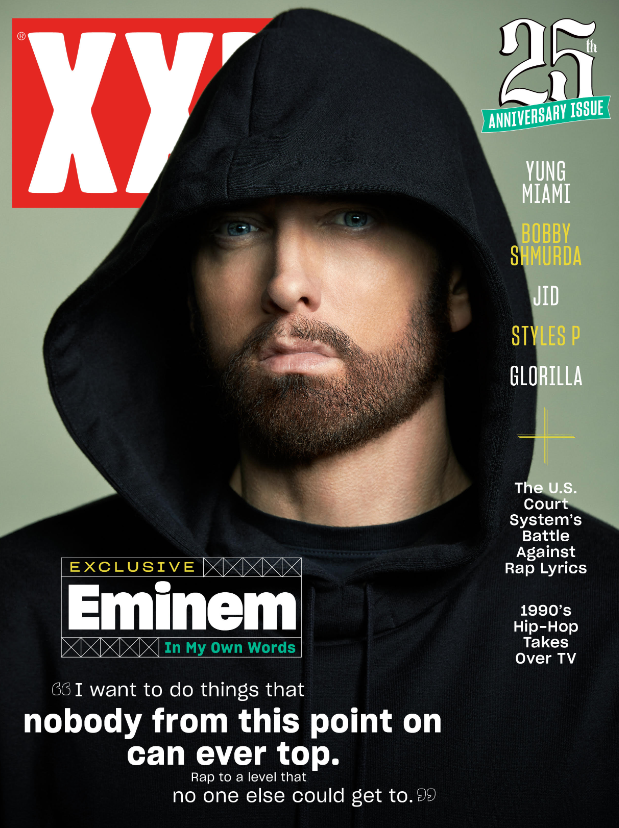 In Eminem's own words.
Eminem throws his hood up and pens his own feature for XXL's 25th anniversary issue.
In his own words, the hip hop superstar opens up from his troubled come to his illustrious career in music, and continue to rap at the highest level.
"I want to do things that nobody from this point on can ever top. Rap to a level that no one else could get to. And again, it's subjective, and every rapper, especially rappers in competitive rap, wants to be the best rapper. So, I look for the younger generation to push me. I don't have to make albums. I don't have to do anything at this point. It's about wanting to, and that's never changed for me no matter what level the fame's gotten to. I still love to rap. It's always been the most important thing to me. I still have fun writing. I have fun watching the rappers I just mentioned, and being like, OK, let me see if I can do something that inside I think I can top that. And every time the best rappers drop an album, it changes the landscape of the fuckin' game. At least it does for me, and I'm like, I need to be able to rap like that. Because if I don't do that, someone's going to come behind me, probably in the next couple of years, and wash me."
Eminem also speaks on his admiration for some of today's brightest MCs. "My role in today's hip-hop is to always try to be the best rapper. That's it." say Em. "That's how I want to feel inside. That's what I want to feel. And I can't do that until I listen to what the fuck J. Cole just put out. What the fuck did Kendrick just put out? And I'm thinking, Oh, these dudes ain't playing. I don't want to get swept away in that shuffle. I still want to let everybody know who the fuck I am. Like I said, "They rap to be the best rappers." I'll hear some shit by them, and I'll be like, Yo, I ain't the best rapper right now. I need to fuckin' get up, get back on my shit.
At this point, a lot of the big achievements that could come in your career have happened for me already, so I don't hyper-focus on numbers and being on charts. What I hyper-focus on is people like Kendrick Lamar, Joyner Lucas, J. Cole and Big Sean, and watching them and how the fuck they're doing their shit. Because they're also focused on being the best rappers.